Camping at Interstate State Park

Jul 28, 2014 05:00PM, Published by Julie Henning, Categories:
---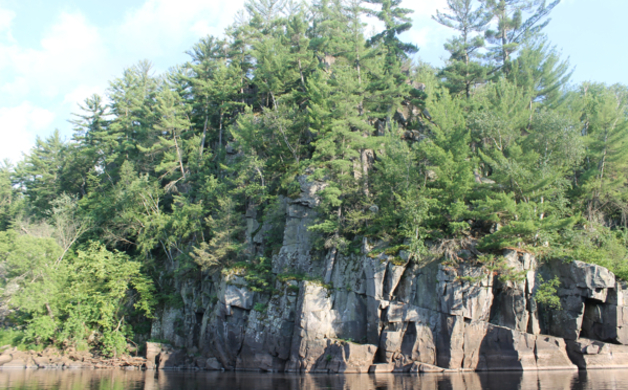 ---
This summer we wanted to focus on two things: camping and waterfalls. Our second "Up North" road trip in July, we managed to do both. Our destination was
Interstate State Park
near the town of St. Croix Falls.
Located along the St. Croix National Scenic Riverway, the park offers spectacular views of the St. Croix River that forms a natural boundary between Wisconsin and Minnesota. Because the river is protected by the National Government, it's a no-wake zone. The water is quite deep in spots (the depth finder on our boat read between 60 and 100 feet deep) and has swift currents and possible undertow. Swimming and cliff jumping are not allowed; we did spot several rock climbers as we cruised the river one beautiful evening.
Do you see the heron?
With a number of hiking trails, a swimming beach, and interpretive center/gift shop, we really didn't have a need to leave the park for several days.
The Western Terminus of the Ice Age National Scenic Trial, an 1100 mile footpath contained within the state of Wisconsin, is located at the park (look for the trail markers, plaques, and interpretive signs). Our favorite was the Pothole Trail, a .4 mile loop that features scenic views of the river, a vantage point for seeeing the "Old Man of the Dalles" rock formation, and natural potholes formed in the rocks by glacial meltwaters.
The potholes are quite deep in places and I was a bit of a nervous wreck at this portion of the trail—this is NOT a place for toddlers just learning to walk. Keep a sharp eye on your kids near the cliffs. This pothole was easily over my head and was not marked with any sign or barrier.
A better place to view the potholes (my opinion) is across the river at Interstate State Park in Taylor's Falls Minnesota. You can easily walk to this park on a trail that cuts over to the pedestrian walkway on the bridge connecting the two states.
Minnesota spent some money on paved walkways and metal fences. You can even climb down into a pothole and look up.
With a sandy bottom and shallow swimming area, the Lake O' the Dalles was a nice spot for an evening swim (a changing house, bathroom, and small playground are all located here). I am not a huge fan of seaweed or sludgy lake bottoms, so this beach gets two thumbs up from yours truly.
One morning we fished for our dinner (pan-fried bluegill = yum yum). Obviously if you are a fisher-person, you will need to plan ahead with your fishing license. Worms can be purchased from any of the nearby gas stations—the one I frequented was near a bakery with pastries and donuts, just tossing that "idea" out there.
In the event of rain, the Ice Age Center and Gift Shop is a place to explore. There's a movie theater with a 24-minute movie (played at your request) and a small interpretive area.
Also within an easy walk from the North Campground is the St. Croix Falls Public Library. You will need to take the Ladder Tank Trail that passes through the remains of the old fish hatchery. This trail gave my overactive imagination an opportunity to think (do not do this at night time).
Your reward for surviving the ruins is a Dairy Queen and the public library (I popped in to take a photo of the children's area and was quite impressed.) I didn't confirm whether the library had WiFi, but I assume they would (for all of us attempting to sneak in an email or two while on the road).
Now for the downside.
Having made a our camping reservation (Wisconsin uses ReserveAmerica.com) in February, we selected a tent site that was somewhat near the showers and restrooms. With a large field perfect for kicking a soccer ball and tossing a football, one major issue with camping at Interstate State Park is the constant NOISE of trucks barreling down Highway 8 on a 7-9% grade that ends in a traffic light and sharp left turn at the bottom of the hill.  (I also swear the truck traffic peaks at 3AM! If you are a light sleeper like me, pack earplugs.)
While we camped in the North Campground, note that there is a more rustic South Campground more sheltered from the sound of progress. On the last day we did find a few spots on the far North side of the North Campground (closer to the State Fish Hatchery) with waterfalls in close proximity. These sites have mostly shade and are probably not very toddler friendly, but the noise of the cascading water did muffle the unmistakable rumble of Jake brakes.
Next up, some ideas for family-friendly fun while you are in the area (look for that link soon).
---
---
---
hiking family camping camping fishing ice age trail interstate state park potholes st. croix falls st. croix national scenic riverway taylors falls
---